Insights for Innovation — Foundations in Design Thinking Certificate
Role: User Researcher, Experience Designer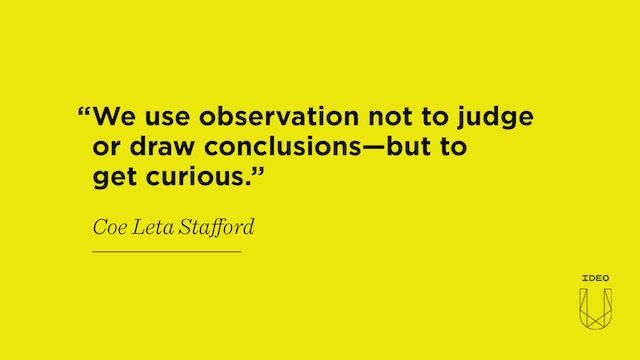 Insights for Innovation is the first step of Human-Centered Design Thinking process developed by IDEO. It helps designers ground themselves in the needs of the people via a series of empathy exercises: Observe, Learn from Extremes, Interview, Immersive Empathy, Share Insights.
Throughout the exercises the designer gets a chance to emotionally and viscerally (not only intellectually) understand what people want and need. The result of this phase is a set of statements that are distilled from the insights collected during the process. These statements are not only informative but should also have the ability to catalyze the organizations towards innovating their products or service offerings.
I have applied IDEO's process to provide insights to Berlin's beloved transportation system, U-Bahn, run by BVG. Below study is purely an output of my personal work presenting my objective findings following the process provided by IDEO U.
👇🏼👇🏼👇🏼👇🏼👇🏼
Scroll all the way to the bottom of the page to see the final insights.
The Challenge:
HOW MIGHT WE improve the commuting experience for people on public transportation in Berlin?
Why did I choose it?
I've recently moved to Berlin. As you might have already know this is a crowded city with a lot of people commuting for work, leisure, or other reasons throughout the week. I've already noticed some challenges people face while using the city's transportation system. I'm interested in looking at this situation with a empathy framework and share my findings with public. I hope these could be helpful to both BVG and the public.
STEP 1. PLAN FOR OBSERVING

WHO TO VIEW:
I will be observing people who are commuting with the U-bahn service. I won't choose a specific commute time, but rather look at some patterns that could be observed throughout the day.
WHERE TO GO ONLINE:
I decided to check BVG's website, BVG's social media accounts, and community posts on Reddit.
WHERE TO GO OFFLINE:
I decided to take U-Bahn's most crowded lines such as U7 and U8 and observe people as they commute. I've also observed people at multiple stations such as Mehringdamm (transfer station), Hermannplatz (transferstation). The transfer stations are more chaotic, crowded, and people have to navigate themselves to the next train — and this can be confusing to many.
WHAT THINGS TO WATCH FOR:
I've decided to observe people who are commuting a little bit different than others. These people are not only carrying their personal belongings with them and going from point A to B, but maybe they are having a little bit of hardship or somewhat have a different mindset than others, maybe a bit more socially responsible than others — meaning they have to care for someone else as well.
STEP 2. OBSERVE OTHERS
Online observations:
I checked BVG's website (Die Berliner Verkehrsbetriebe – Berlin Public Transportation), however, there was no sign of public discussion/dialog there. It was only one way communication, mostly BVG explaining routes, fees, tools to use and other type of information commuters might need to know regarding the public transportation in Berlin.
Twitter
Then, I checked their twitter account where I've realized quite a lot of conversation was happening between BVG and the public. Especially, the recent strike by BVG employees which happened on a Friday (took place between the early morning hours and noon) was causing interesting dialogs to happen on Twitter threads of BVG. The account was informing people about the strike and its consequences, as well as helping individuals with their questions, and the public sharing their support even though U-bahn is a crucial part of people's commute during the weekdays.
Facebook
I also visited BVG's Facebook page. It didn't feel like a public service announcement page, but rather have a community feeling to it.
The title of the Facebook page reads: BVG – Because we love you.
There were a lot of posts about social events, community content like Instagram photos being re-posted, BVG sharing posts related to a variety of topics — trying to have an artsy edge to their public service. Well, we're in Berlin in the end, you gotta be somewhat artsy.
Disclaimer: BVG trying to be funny and making a joke about themselves stressing on the fact that they have very old trains but it runs.
There were a lot of comments & jokes posted by the community underneath this post. Some people were finding it funny some others were finding this humor to be a bit unnecessary and a waste of time.
Reddit
I also checked Reddit/r/berlin to see what type of BVG or commuting related posts were shared by the commuters. I noticed posts that are pointing out the fact that BVG services are a little bit outdated. This below post was making a joke about Deutsche Bahn still using Windows XP for their ticket vending machines. Photo was taken when their system had a bug and the famous blue screen was displayed. (This vending machine also provides U-Bahn tickets, but is run by another company owned by the Federal Govt rather than Berlin Govt.)

Offline Observations:
I took the U-bahn multiple times towards different directions and observed commuters as they were riding the trains. Also, I spent a lot of time watching people at the U-Bahn stations. A couple of things that popped-out were:
A mother commuting with a baby in a stroller and another 3-4 year-old kid:
First, I noticed her purchasing a ticket from the vending machine while keeping an eye on the stroller and personal belongings on it. She was trying to make sure the little hyperactive girl was in sight. Then, they headed to the platform to wait for the train — they were standing pretty close to the train tracks. This mother was also discussing something over the phone — maybe trying to get something else done in the meantime. The little girl was so hyperactive walking near the train tracks and she was passing the white tiles. The mother was freaking out while talking over the phone and started yelling at the girl. Then, they moved next to the column far away from the tracks (photo). The little girl was bored and frustrated by not having enough fun during the commute. The mother was multi-tasking in many different ways and she was also frustrated & felt helpless.
A girl commuting with a chair:
Berlin housing market is pretty tough and a lot of people have to move from one place to another even maybe multiple times in a year. It's pretty common to notice people carrying furniture or home improvement things & tools on the U-Bahn. There was a young girl who perhaps have purchased a chair on that day and was taking it back to her place. She looked very comfortable at the platform, then on the train she found herself a corner to put her chair. I think it was pretty easy for her to carry this not heavy looking chair outside of the rush hour. Also, it important to mention that this was a weekday observation.
A couple riding the U-Bahn after Bauhaus visit:
I also noticed a similar example, over the weekend, a couple carrying a ladder and a couple of things they've bought from Bauhaus. In this case, it was a little bit more crowded and it would be very hard for one person to carry all of these things alone. I assumed they made their purchases at Bauhaus considering their commute and the consequences. I wonder how seriously their purchase decisions were affected by these constraints.

I've also observed other people but didn't have time to watch those people longer. These people also made me curious about their needs and patterns:
People commuting with pets
People who are either disabled or need assistance while commuting
People who are always using their devices and maybe requiring high speed internet at all times.
People who are drinking a beer or other things while commuting even though it's not allowed on the train. These people could be just having a drink as they commute or they could be party-goers on their way to the clubs/bars.
IDENTIFYING EXTREMES:
First, I thought about the cases I've been observing and ideated on possible personas who might be also riding the U-Bahn.
Then, I came up with three lenses that in my opinion are the most important for my project:
Level of knowledge in German language and the local life required to ride the U-Bahn
Mobility
Attitude towards technology
Then, I chose one of the lenses and came up with potential extremes:
LENS: Mobility
I'm choosing mobility meaning not only the ability to move freely individually but also considering things that people have to carry with them, and their state of mind.
Potential extremes:
A young female pet owner who has to commute with her dog to work and everywhere at all times.
A group of international travelers / party-goers that are intoxicated at different levels commuting after midnight over the weekend.
A young mother of two kids (1 year-old boy and 4 year-old girl) commuting after grocery shopping.
A young couple who moved to Berlin recently trying carry new furniture to their new apartment.
An old person who has to use mobility aid such as 4-Wheel Rollator.
A young single adult who is commuting with travel bags to/from the airport.
Selecting One Extreme:
I'd like to focus on the below extremes if possible and talk about these issues:
A young single adult commuting with large travel bags to/from the airport
Arethey able to carry bags comfortably during travels? How much do they have to carry?
Do they sometimes forget to buy ticket, or leave something on the train? What are their main problems?
Is there enough guidance for the travelers on U-bahn? Do they know where to get off or on?
Are they informed about the journey enough before their commute?
A group of international travelers / party-goers that are intoxicated at different levels commuting after midnight over the weekend
What do they do when they are with a friend that is intoxicated a little too much and they have to take care of them?
Do they ever feel concerned about their safety while commuting on U-bahn after clubbing?
Why do they still drink on the U-bahn even though it is prohibited.
What would be a better commute experience on U-bahn over the weekend?

INTERVIEW
I would like to focus on the below topics during the interview.
Are they able to carry bags comfortably during travels? How much do they have to carry?
Do they sometimes forget to buy ticket, or leave something on the train? What are their main problems?
Is there enough guidance for the travelers on U-bahn? Do they know where to get off or on?
Are they informed about the journey enough before their commute?
For the interview, I've finalized my questions:
Why do you take U-Bahn or public transportation while traveling?
I'd like to understand your travel style. Can you tell me about your travel style, like how often do you travel, where do you visit, and how long do you stay?
Do you have to travel with more clothes than you can easily carry?
Have you taken the U-bahn to go to the airport or from the airport?
How do you feel about taking the U-bahn to the airport? Do you feel comfortable? Are you informed about everything?
Have you ever had a bad experience on public transportation while traveling to or from the airport?
Is there anything that make you feel worried about taking the U-bahn?
Have you ever had a problem with buying U-bahn ticket or something similar?
Anything you feel like sharing with me about your transportation needs?
Is there anything that you wished it existing in U-Bahn?
I interviewed an international female adult traveler who recently moved to Berlin from London. I was able to ask all the questions above and learned a lot about her experience not only with U-Bahn but also had a chance to let her compare her experiences in other cities.
Here are my notes and important highlights from my interview:
Travel patterns and recent experience:
She travels internationally once every 2-3 months.
She recently had a flight from Schönefeld (one of the two int. airports located in Berlin) at very early hours during the week.

She wanted to take the U-Bahn even though she had to carry one large luggage and a small handbag with her. However, there was an interruption with the service that required her to transfer to a bus for a long connection — she found it very risky, thus she took an Uber to the airport paying around 30EUR. The cost of U-bahn is around 4.50EUR.
She was concerned that she's not a local and in case something goes wrong she wouldn't feel comfortable to deal with the situation.
Also, taking the cab saves time and she could sleep a little more.
She noted that service interruption usually taking place during weekends. Her flight was on a Monday, but there was still an interruption.

Not feeling informed:
Berlin is not friendly for someone new to the city.
The tickets do not have any information written in English.
After purchasing the ticket the passengers need to stamp it at the little machine located in the station, however, this is not clearly stated anywhere (in English).
The stamping machines are not placed consistently in the stations — they are all over the place, located sometimes in the subway level on the platform near the ticket vending machine, sometimes upstairs at the entrance of the station.
The vending machines have multi-language support, however, they are not user-friendly. For instance, short distance tickets are available, but it was not clear to her at the beginning.
The maps in the station are not located at the same place — she feels like sometimes there are no maps around.

Feeling concerned:
She doesn't know if she has purchased the correct ticket or not.
She's always feeling concerned about the validation on the ticket — whether she forgot to do it or not.
Comparison to London:
Traveling with the Tube in London feels more straight-forward.
At the entrance of each station, it's clear that you have to use the card reader.
Two stories from the interviewee:
Once she forgot to validate/stamp the ticket, and she was freaking out about being caught during the ride. (The fine for riding the U-Bahn without a ticket is around 60EUR). She thought about what to tell the ticket controller, if they had randomly showed up. Then, she got off at the next station, looked for a validation machine and got her ticket stamped.
On another occasion, she was riding the S-Bahn (a train that mostly rides above ground) and at one station the train stopped and started going backwards. There was an announcement that was made in German, and she didn't understand what it meant. People didn't got off the train immediately, so she went back a couple stations and got off at a transfer station thinking that there would be other options to complete her journey. She spent 20 min. looking at the screens trying to understand what was going on. Then, she found an alternative train which happened to be a way longer ride and got to her destination with a detour.
"At the moment of interruption or a trouble, the Berlin public transportation system is definitely not foreigner friendly."
To me, the main problem here is the level of communication provided by BVG. The locals seem to be very comfortable with the service and the use of BVG's mobile application making things a lot easier for many people. My interviewee doesn't use the app even though she seemed to be tech savvy. Also, the BVG app can be used in English and it provides a better UX than the vending machines at the stations.
I think there are a lot of small improvements that can be done to improve the U-Bahn service. I realized that providing consistency around the U-Bahn stations, and clear communications considering people with diverse backgrounds could solve many problems of the international people in Berlin.
IMMERSIVE EMPATHY:
Simply put, immersive empathy is getting in the shoes of someone else. Here I pretended to be international traveler who doesn't have the local knowledge to be able to ride the U-Bahn, and trying it for the first time.
What I want to learn:
What's it feel like taking the U-Bahn for the first time and not understanding anything at the U-Bahn station or while riding the train and trying to get to the airport?
What's it feel like to deal with an unexpected change in the train schedule?
What's it feel like traveling with bags on the U-Bahn while going to the airport during rush hour?
What's it feel like not have internet service on the phone?
What's it feel like to be in a rush?
Ideas I came up with:
I can pack my bags and head to the airport with U-Bahn.
I can pretend like I'm seeing everything for the first time and I will only look at content that is in English pretending like I don't understand German.
I can take a route that has service interruption to face the same challenge.
I can take the U-Bahn during rush hour.
I can avoid using my internet.
I can give myself just enough time to get to the airport.
My plan:
I'm going to pack my bags and head to the airport during rush hour.
I will try to execute everything in the list:
pack my bags and head to the airport with U-Bahn.
pretend like I'm seeing everything for the first time and I will only look at content that is in English pretending like I don't understand German.
take a route that has service interruption to face the same challenge.
take the U-Bahn during rush hour.
avoid using my internet.
give myself just enough time to get to the airport.
PLANNING
I looked up the itinerary on Google Maps then took notes on my notebook since I was going to be internet-free. I was also setting my mind so that I'm an international traveler who doesn't speak German or know anything about local life.
GETTING STARTED
I grabbed my bags, left home, and arrived at the U-Bahn station knowing that I have to go to Grenzallee station then switch to Bus 171 due to the construction that was going on — then the bus was going to take me to the airport.
At the entrance, I saw the list of stations that U6 line was running through, and I felt pretty confident once I found out that there were two of the same diagrams across from each other, however with a twist — the names of the stations were not all written with dark text. Some of them were greyed out to communicate clearly the direction of each train on both sides of the platform.
Please check above sample images to see the different colors of text on diagrams.
Once figured out which side of the platform I needed to use, I headed to the vending machine to buy a ticket. I noticed there was an English menu option, which switched the language of the interface to English. I checked the options and didn't quite understand which ticket I needed to purchase. I was confused.
I noticed the Short Trip option, and tapped on it to understand if it was suitable for me. It explained that maximum number of stations that I can ride with that ticket were 6. At that moment, I got frustrated because I didn't have access to a map to be able to count the number of stations I needed go through. I needed to look at a map at that moment and it was far away. I left the machine, walked to the nearest map and counted the stations. It was more than 6, so I realized that it wasn't the right ticket for me. I went back to the machine — carrying my bags with me.
There were single ticket options for AB, BC, and ABC categories, which was gibberish to me.
Then, I walked back to the map again, this time more frustrated, and learned how the areas were organized. The airport was in the C area.
I easily purchased a ticket with my credit card. On top of the ticket, it said I need to validate it (in English). I didn't know where to validate the ticket. It wasn't explained.
I looked around didn't notice anything. Then, I started walking around the platform, behind a column I saw a yellow machine that looked like I could fit this piece of paper in it. I was yellow and bright — I got closer to see that it read "Please validate here" . I got a stamp on the ticket from the machine then I saw that it printed some numbers including the current time on it.
I waited for4 minutes until the next train arrived. Once I got on the train, I realized that I was feeling a little bit nervous due to not really being sure that I got the right type of ticket.
TRAIN RIDE
As the train was moving from one station to the next, there was automated announcement calling the names of each station we were arriving at. As a traveler who didn't speak German the names didn't quite sound familiar. I was going to make it to the airport just on time, if everything went well, so I was getting nervous and I wanted to see how many stations I still needed to be on the train for. I looked around to find the list of stations — however found four different ones. The train had U6, U7, U8, and U9 maps on the walls. I was a bit shocked to see all of them since I was just using the U6 — at that moment I forgot about it so went through the entire map and station names to find Grenzalleh..
The maps were located only in the middle of the isle near the ceiling, so I had to move there with my bags. I was sweaty and frustrated at that moment. I was relieved once I saw Grenzalleh on the map and located the next-announced-German-station-name on the map.
GETTING OFF
When the train arrived at Grenzalleh station, I heard another announcement, this time in English. It was letting people know that this was the last station and due to the construction the train wouldn't continue — people who are going to the airport had to transfer to the bus. Hearing a language that I could understand totally comforted me. The announcement also suggested people to follow the signs to the bus.
I got off and looked around for the sign. There were some new looking signs on the walls, which were in German(!). I couldn't understand really what was going on, but saw the name of the bus I had to take. But, again, not being confident, not being sure urged me to ask someone. I talked to one of the employees of BVG at the station and he showed me UPthen LEFT with hand sign when I asked for the airport bus.
BUS RIDE
I walked out and looked left and right to find the nearest bus station. It took me a couple of minutes.. Once I got the bus station, I immediately noticed that buses arriving at that station were only offloading people. Oops! I was on the wrong side. I had to cross with my bags, but the bus station was not near the traffic lights. Being in a rush, and not feeling like carrying those bags while detouring through the traffic lights — I just did something bad. I jaywalked — and felt really scared when I noticed a car was approaching pretty fast on the other side of the street. Luckily, I safely arrived to the other side of the street.
The bus arrived in the next 2-3 minutes. Once I got on, first thing I asked the driver, in English, if I needed to purchase a ticket for the airport. He didn't speak English. Therefore, I tried to explain again by showing my U-Bahn ticket and asked the question again. I think he quickly understood since I was with my bags — then said it was OK.
The bus ride was pretty easy — I knew that there'd be around 25 stops before we get to the airport. And there was a display clearly informing people about the final destination of the bus while it was showing the current station name.
THE SUPREME MOMENT OF AMBIGUITY
As we were almost at the final stop, the airport, there was an announcement in the bus, again for the first time in English. It was informing people that everyone must have a validated ABC area ticket to avoid any fines. I looked at my ticket and realized that I got an AB ticket. I made a HUGE MISTAKE.

🙀🙀🙀
I ran to the bus driver and showed my AB ticket — then asked him how I could purchase an ABC ticket. He looked at the ticket, then said "OK, OK." and waved his armed displaying undoubtable comfort, while sending me back to my seat. I was riding the bus with a ticket that was not valid for the part of the journey I was on. The bus driver has forgiven me, but what if there was a ticket control when we got off? I heard that fines were around 60EUR for riding with an invalid ticket.
The final 5 minutes of my journey was very uncomfortable. Once I got off the bus and entered the airport – I was relaxed. I appreciated the fact that I was there safe, but what a journey I had??!!!
Reflecting on the project
What struck me the most was noticing the feelings associated with little things. I noticed that there are so many details that had a potential to be done differently and could improve a traveler's journey and make them feel safer and more comfortable. The devil was hidden in the detail.
SHARING INSIGHTS:
First, I went through all my submitted assignments and notes to capture ideas, quotes, and insights.
Then, I gathered them around themes that made sense.
The most surprising thing I noticed was that BVG's intention to be a better communicator was obvious, and they had so much potential to craft their communications towards a diverse set of people, but then I noticed that they were not really sympathizing with all types of people or aligning everything towards providing a coherent user experience for foreigners. I wonder what the reason is.
After putting together all the insights and theming them. I crafted 3 statements/insights that would help organization understand opportunity and take action towards making something better for the people.
Each statement starts with one idea that has to be followed with another version of that idea which is deeper, more focused, and more meaningful. Third statement is the final one which is the headline of the insight that helps the organization think differently towards a potential.
First Statement:
U-Bahn is not user friendly for foreign travelers.
BVG is not sympathizing enough with the foreign travelers about their problems.
BVG is not optimizing communications towards foreign travelers.
Insight #1
Second Statement:
U-Bahn rides for families can be made more secure.
Mothers with kids riding U-Bahn have to do so many things at the same time.
BVG tend to miss kids are also riding the U-Bahn.
Insight #2
Third Statement:
Color codes and diagrams can be used in better ways at U-Bahn stations.
Vending machines with tickets, trains with lines can be color coded matching each other.
Colors can be used in more fun ways at U-Bahn stations and on trains to guide people and provide an entertaining ride.
Insight #3
THANK YOU.